Afuwape Gbolabo
After twelve positive trading sessions in November, the Nigerian bourse inched up 0.55% Wednesday with thirty eight gainers and only eight losers. It was 0.9% WoW, 2.8% MTD and 40.3% YTD. Notably, November looks set to emerge as market's seventh month of positive outings against four negative performances as 2017 winds down. So far in November, NSEASI had only recorded seven negative sessions.
The bourse gained 205.47 points and N72 billion Wednesday to see the All share Index and Market capitalization closing the day at 37,709.20 and N13.133 trillion respectively.
Other main indexes closed mixed with Aggregate turnover (volume and value) declining by 59.91% and 14.91 percent respectively. Total deals grew by 4.26%. Government Bonds Capitalization and Exchange Traded Funds Capitalization advanced marginally by 0.50% and 0.36% respectively.
Huge transactions were noticed in stock Standard Alliance Insurance Plc which accounted for 22.98 percent of the bourse's Aggregate Value turnover and Sovereign Insurance which accounted for 17.42 of the bourse' Aggregate volume turnover.
Fret in the Market Place:
Though possibility of another positive session is high Thursday to round off trading activities on the floor of the Nigerian Stock Exchange even as the supposed first trading session for December has been declared a work free day by the Federal Government, the market however also struggles to cope with the suspension of the nation's Securities and Exchange Commission Boss, Mounir Gwarzo for financial impropriety.
The Director General and two other top officials of the commission, according to reports were suspended by the Minister of finance, Mrs kemi Adeosun for mismanagement of resources. In specific, the Director General, Mounir Gwarzo is being accused, among other offences so stated, for awarding contracts to companies where he has direct interest hence, reports say that he is, with his wife, to be investigated by the Economic and Financial Crimes Commission, EFCC.
In his about twenty one month reign as the head of the Nigerian capital market, Gwarzo, who so far had operated without a formal board and commissioner had supervised the ban of Victor Ogiemwonyi, who was the CEO of Partnership Investment Company Plc and Albert Okumagba of BGL Plc with other Directors of these two companies. These individuals and companies they represented were found culpable of acts inimical to the growth and development of the nation's capital market according to SEC's administrative proceeding committee. The last straw that perhaps broke the Carmel's back is the recent faceoff with the management of Oando Plc.
With the suspension of Mounir Gwarzo, there are palpable uncertainties in the market. Will the life ban on Albert Okumagba be lifted? Will BGL operating license be restored and the major team members too recalled? What happens to Victor Ogiemwonyi and his Patrnership Investment Plc? Much more, will the technical suspension on the stock price of Oando Plc' be lifted and the proposed forensic audit of the company's operations also suspended?
The Finance Minister sure instructed that the most senior officer of the commission should immediately take over; the market awaits the immediate move of the said senior officer while it is hoped that the outcome of Gwarzo's investigation be concluded and final actions taken soonest.
Market Snapshot:
The Nigerian Stock Exchange All Share Index (NSEASI) for Wednesday 29 November, 2017 closed at 37.709.20 points which is 0.55 percent higher than the previous session's 37,503.73 points.
Market Capitalization closed at ₦13.133 trillion against previous session of ₦13.061 trillion, representing 0.55 percent increase.
4,263 deals recorded in the day represent an increase of 4.26 percent against previous session's 4,089 deals.
The 441.808 billion units of equities traded for the day was 59.91 percent lower than previous session's 1.102billion.
Value of equities traded for the day decreased by 14.91 percent less than previous session's ₦4.805 billion to ₦4.088 billion which was recorded for the day

Gainers for the day (32):
FIDELITYBK, CHAMPION and FCMB led other Twenty-nine percentage price gainers for the day.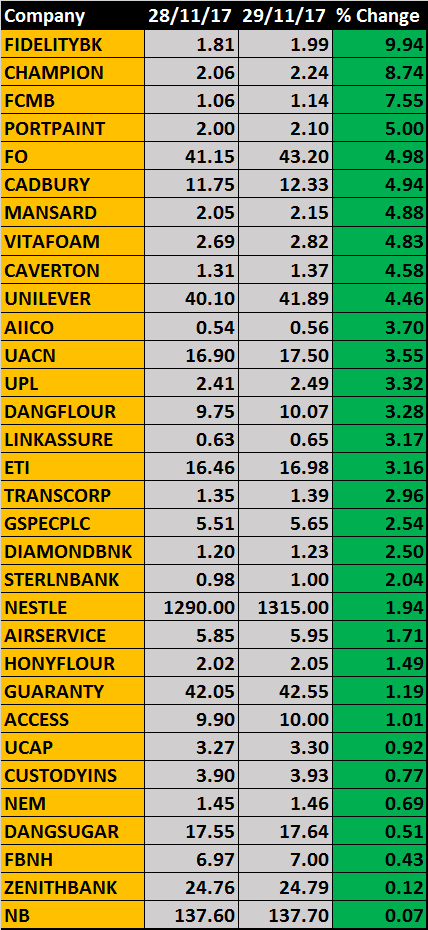 Losers for the day (8):
LIVESTOCK, MORISON and NPFMCRFBK led other six percentage price losers for the day.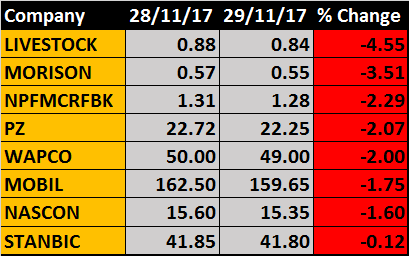 Ten Best Stocks:
TRANSEXPR, TANTALIZER and LIVESTOCK recorded the most deals of the day.
SOVERENINS, LIVESTOCK and OMATEK recorded the most volume in the day.
STDINSURE, STUDPRESS and TANTALIZER recorded the most value in the day.
Other Indexes:
Financial services industry was the most active industry for the day with 331.636 million shares exchanged for ₦1.826 billion Wednesday.
Services industry was next with 46.924 million shares traded for ₦0.029 billion.
Consumer Goods Industry, Conglomerates Industry and Industrial industry followed respectively.
Market Breadth:
Market breadth closed Positive as number of price gainers outweighed number of price loser with 32 gainers against 8 losers.
Fidelity, Dangote Flour Stocks Soar, Returning 136.9% YTD with More Gains Ahead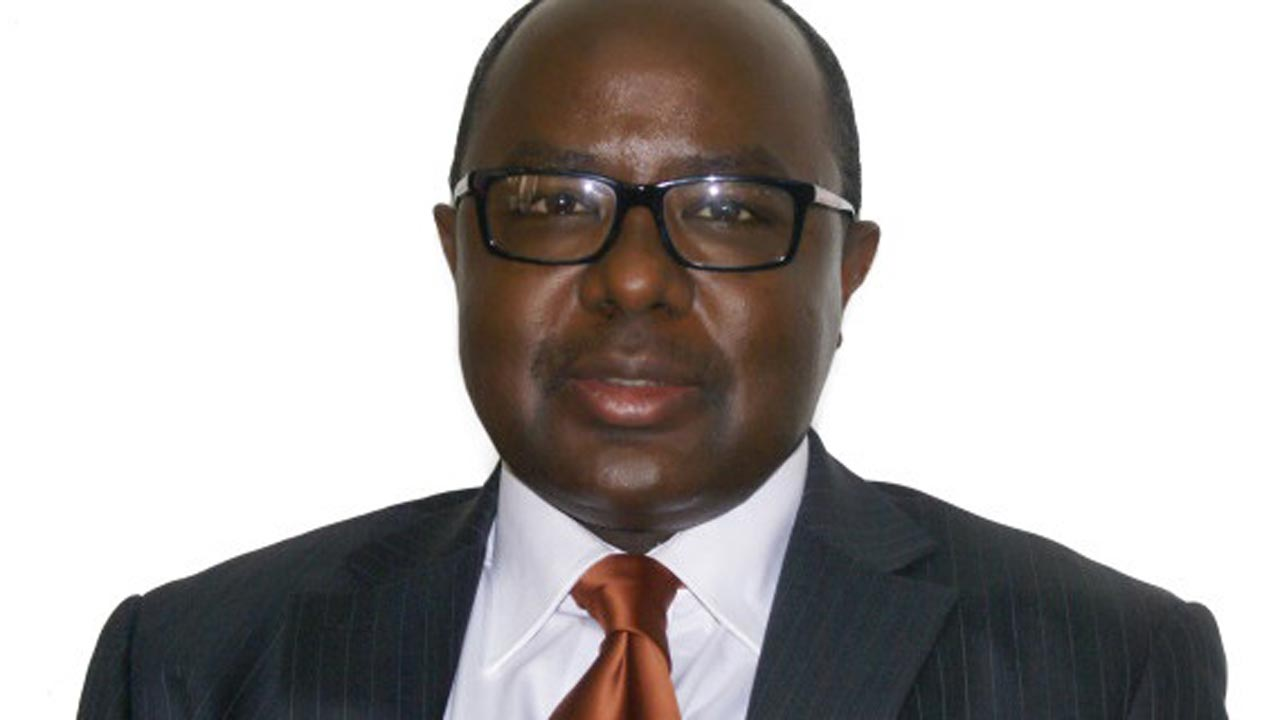 Soldier comes, soldier goes but the barracks remain is a common saying in Nigeria. The market might fret and foreign investors show a bit of concerns over the management of the Nigeria' capital market over the suspension of the DG, Mounir Gwarzo, it is apparent that gainers and losers will emerge in Thursday's trading session as the market closes for a one-day holiday to resume Monday December 4, 2017. Here are few stocks to watch.
Fidelity Bank: 
With a gap of 9.9% price growth yesterday, the stock price of Fidelity had returned 136.9% YTD, 30.9% MTD and 17.1% this week.
Though a number of indicators are yet looking up, trust bargain hunters for who they are, a slow down might be seen. The market is sure looking the way of the company' 2017 Q3 earnings, not minding whatever caveat.
After trading 60million units Wednesday, the stock yet closed with 650,000 unsatisfied bids. A strong open Thursday is expected.
Dangote Flour: 
At Wednesday' closing price of N10.07 which was also its highest for the day, Dangote Flour had returned 136.9% YTD, 5.7% MTD and 9.1% this week.
The stock however closed with unsatisfied offer of 1.273 million units and bids of about 962,355 Wednesday. It looks sure to slow down Thursday though indicators are conveniently looking up. At that, slowing down might not connote tiredness hence, a medium term hold is advisable. Products, shareholding structure, strength of ownership and improving earnings are all factors to uphold in Dangote Flour.
Dangote Sugar: 
At N17.64 price, the stock had generated 188.7% YTD, 17.6% MTD and 2.3% this week to suggest a measure profit taking.
With 179,000 unsatisfied bids without any offer to close trading session Wednesday, Thursday looks a good day for the stock all things being equal.
Indicators are looking up but with short term sell pressure to slow down the momentum.
Stanbic IBTC: 
Low share cap and favourable shareholding distribution are the major sustaining factors of the stock.
At N41.80, though it lost 0.12% Wednesday, declined by 0.45% so far this week and 4.2% MTD, it had generated 178.7% YTD.
It closed Wednesday with excess offer of 119, 474. This suggests a turbulent Thursday's opening session all things being equal.
Technically, the stock is trending down. Keep your gaze and enter as indicators signal.
The bank's figures are not too fantastic when compared to others in the industry.
ACCESS:
At N10 price, Access might brood for a season around this level having generated 70.4% YTD. The bank's earnings and possibilities make it a hold. Closing with well over 1million unsatisfied bids and 200,000 offers at N10.19 is indicative of low sell pressure to depress.
AIICO:
With NAICOM' recent report placing the company as the only competitive quoted and listed insurance company, it is only a matter of time, the stock will become attractive.
For Wednesday, there was, at the close of trading, over 773,000 excess bids without an offer. Possibility of a higher price Thursday high all things being equal.
At penny 56kobo, AIICO has generated negative return YTD but 7.7% MTD. This week, it has been flat. It grew 3.3% Wednesday.
WISHING YOU A BULLISH DAY
The Nigeria Stock Exchange Market data for Wednesday 29thNovember, 2017: